Pagi ini Oma bangun dengan perasaan kuatir, takut, atau mungkin juga males. Sebentar lagi kuliah akan dimulai, dan Oma akan menjadi seorang student lagi.
Ada beberapa konotasi 'student' yang (kadang) bikin Oma males:
1. Student = kere
2. Student = deadline
3. Student = lembur
4. Student = No Job, thus butuh part-time job
5. Student = Homesick/Culture Shock
6. Student = tidak gaul kalo tidak suka hang out
Apalagi sekarang Oma kuliah Master. Master adalah sesuatu yang lebih sulit daripada Bachelor (of course). Master lebih banyak tugas dan deadline daripada Bachelor. Master lebih mahal daripada Bachelor (very obvious). Master membuat student tidak memungkinkan untuk kerja daripada saat Bachelor.
Dan Master kali ini adalah tantangan berat buat Oma. Selain Oma mengejar gelar Master of International Communication Management; Oma juga mengejar gelar Master dalam course 'Walk by Faith' and 'Trusting God'.
Sudah 4 tahun Oma mengambil kelas 'Walk by Faith' and 'Trusting God', tapi belum lulus-lulus, walaupun uda sedikit naik level. Kali ini, Oma benar-benar akan berusaha untuk lulus dari ujian dua kelas ini. Not easy, but I will really try my best.
How best? This best: sudah seminggu lebih Oma di Belanda, dan belum sehari pun Oma nangis-nangis dan/atau marah-marah karena ndak punya uang atau kepikiran ntar uang gimana. Honestly, kadang kepikiran, tapi selalu saja Oma tendang jauh-jauh pikiran itu dan berdoa. So,... I am quite good. Semoga sampai satu tahun di sini, Oma tetap berpikiran positif dan 100% mengandalkan Tuhan for paying my bills and tuition fee.
Baru aja Oma buka Jawaban.com. Uda lama juga ngga buka! Anyway,.. I found a very good inspiration from this story. Semoga kalian juga suka. Satu yang Oma belajar, berjalan maju, walaupun lambat dan andalkan Tuhan.
Hm,.. good luck, Nia!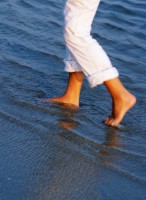 Tetaplah bergerak maju, sekalipun lambat. Karena dalam keadaan tetap bergerak, Anda menciptakan kemajuan. Adalah jauh lebih baik bergerak maju, sekalipun pelan, daripada tidak bergerak sama sekali.
Dalam hidup kita sering merasa buntu hanya karena kita ingin mengambil satu langkah yang terlalu besar, langkah raksasa. Akibatnya, masalah kita jadi terlihat besar sekali, kompleks, dan tidak terselesaikan. Hasilnya, Anda hanya termenung dan tidak bergerak.
Sabar dan coba mundur sebentar. Perhatikan tantangan Anda. Tidakkah lebih memungkinkan bagi Anda untuk mengambil langkah-langkah pendek terus-menerus, daripada berusaha menelan semua masalah sekaligus. Satu langkah kecil demi satu langkah kecil, asalkan Anda tidak berhenti, adalah cukup, karena Anda masih memiliki hari esok dan masih ingin bergerak maju, dan bukan berhenti.
Source:
Click Here